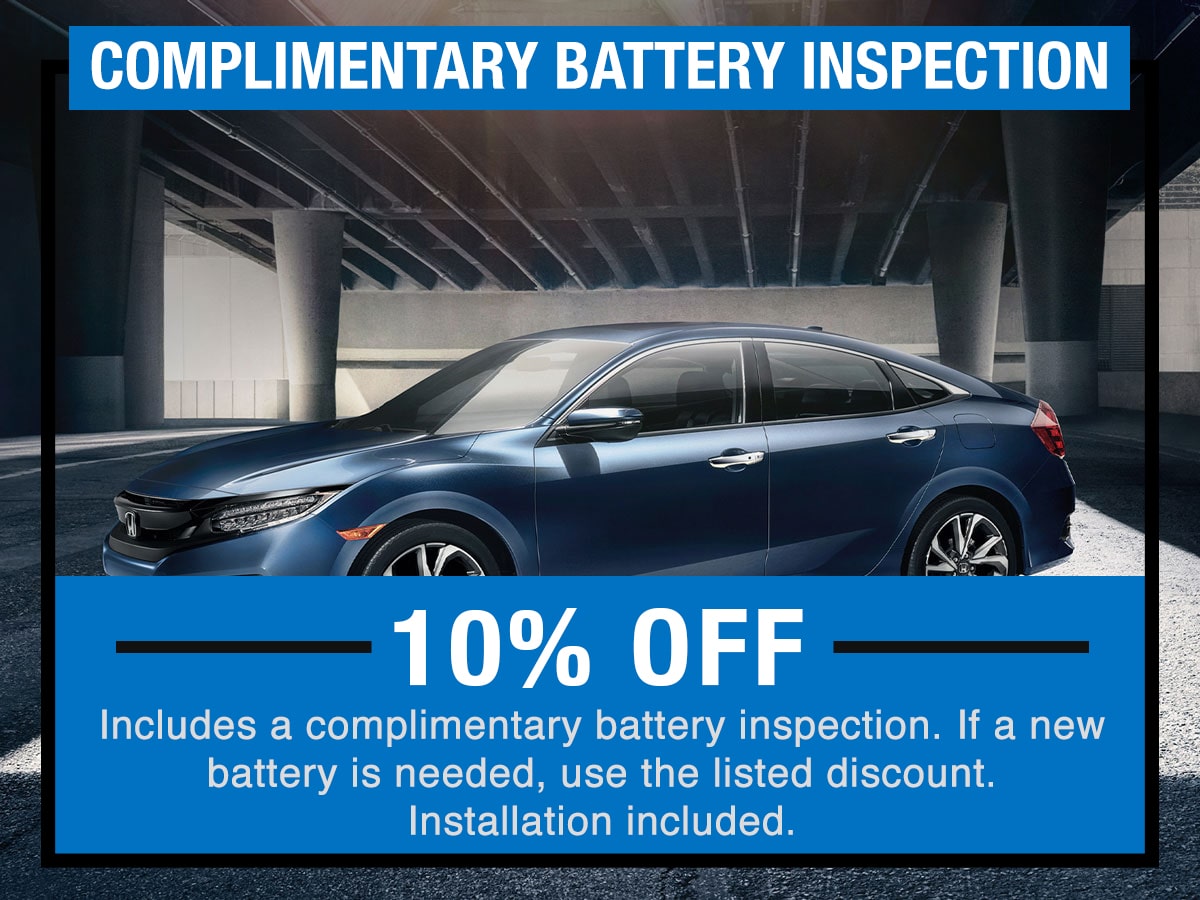 Your Honda Battery
The Battery in your Honda car, truck, van, crossover, or SUV is vital for starting the engine and powering accessories when the engine is not running. Without a reliable battery, your engine might not even be able to start. A dead battery will leave you stranded with an immovable vehicle. 
  Schedule Service
   Save to Phone
Your Vehicle Battery may need Testing and Inspection
Routine Battery Testing & Inspection Service is an excellent way of promoting reliable battery performance. The importance of Battery Testing & Inspection Service for vehicles operating in Indiana's climate cannot be stressed enough because the greatest threats to an automotive battery are extreme temperatures and significant temperature change across seasons. Indiana, with frigid winters and scorching summers, is a substantial threat to the life of your battery.
Signs that your Vehicle Battery is Dying
Here are the warning signs associated with a battery that's dying:
Battery warning light is on
Sluggish or slow engine cranking 
Difficulty starting the engine or it won't start at all
Turning the ignition and it makes a clicking sound 
Poor electric accessories performance including dim headlights or weak-sounding horn
Battery case is noticeably disfigured or leaking fluid

What happens during Battery Testing & Inspection Service?
Battery Testing & Inspection Service at Tom Wood Honda of Anderson begins with a Certified & Factory-Trained Technician that will perform diagnostic testing with a multimeter to ensure that the battery has adequate reserve capacity and cold-cranking amps. The Battery will also receive an inspection to ensure it is in good physical condition and the connections are in good condition with any dirt or acid build-up cleaned. We will also apply an anti-corrosion protectant to help keep the contacts in good shape for thousands of more miles to come. If the battery is not holding an adequate charge or cannot generate enough cranking amps, it will need replacement as necessary with a genuine Honda approved battery from our genuine Honda Parts Department. 
  Schedule Service
 Service Hours 
Monday

7:00 am - 6:00 pm

Tuesday

7:00 am - 6:00 pm

Wednesday

7:00 am - 6:00 pm

Thursday

7:00 am - 6:00 pm

Friday

7:00 am - 6:00 pm

Saturday

7:30 am - 3:00 pm

Sunday

Closed
Honda Battery Testing & Inspection in Anderson
Given the importance of the battery for your vital source of transportation, an annual Battery Testing & Inspection in the Spring is an excellent way of promoting vehicle reliability throughout the summer. Battery Testing & Inspection is readily available at Tom Wood Honda of Anderson, which is located conveniently in Anderson near Indianapolis & Muncie, Indiana. 
Need a new battery? Check out our Battery Replacement Service Special.
---
Tom Wood Honda Amenities:
Complimentary car wash with every visit
Certified & Factory-trained Technicians
Transportation and/or Rental Vehicle
Collision Center in Indianapolis
Early Bird Service
Supports American Cancer Society, Leukemia & Lymphoma Society, Indianapolis Zoo, St. Mary's Child Center, Best Buddies Indiana, and many more
---
Must present coupon when the order is written. Not valid with any other offer. Some restrictions may apply see Service Advisor for details. Tax and shop supplies not included. Some Models may not apply. Promotion may end at anytime with our notice. Does not include Tax and or Shop Supplies, see Service Advisors for details.
Dealer Wallet Service Marketing & Fixed Ops SEO by