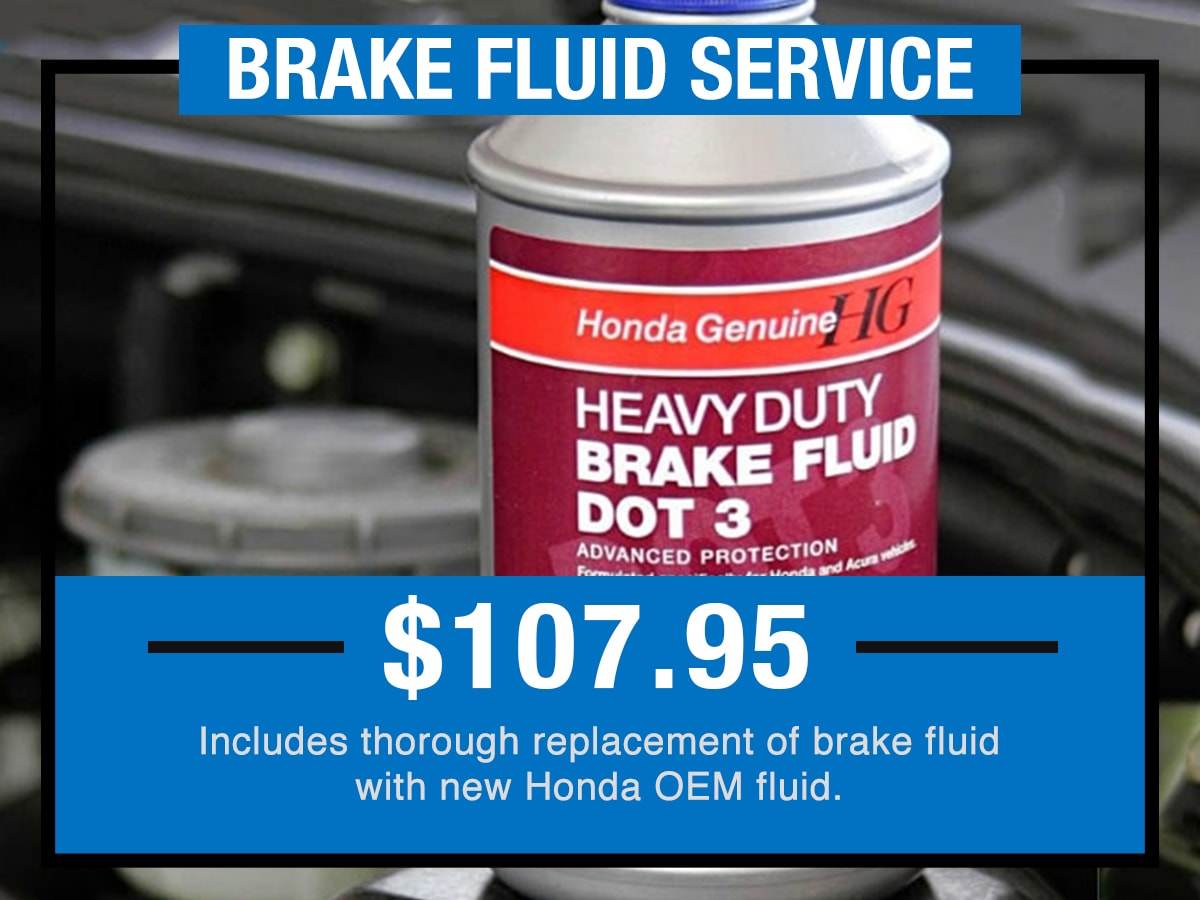 How Your Car's Brake System Works
Every Honda ever manufactured has a brake system that slows the vehicle down as needed. It is the brake system at each wheel location that applies the stopping power necessary to slow down and stop the car. Whether you want to slow down as a precautionary measure to stay within the speed limit, slow down moderately for that state trooper ahead, or lock the brakes up to prevent an accident with the neighbor's runaway dog, it is the Honda braking system getting the job done. This system is complex with many vital components all working together to send stopping power into the brake rotor as needed for excellent stopping. At the heart of your brake system's performance are brake pads and brake fluid that wear out over time.
  Schedule Service
   Save to Phone
Brake Fluid & Flushing
The lifeblood of the brake system is a hydraulic liquid call brake fluid. It is favored for its ability to resist compression, which makes it perfect for transferring the force generated by the master cylinder all the way through each caliper into the brake pads and rotor. Good brake fluid is essential for pushing the brake pads into the rotors to generate the friction needed to stop the vehicle. The problem with brake fluid is that it absorbs moisture and then becomes faulty as any water in the line boils under pressure.. Flushing contaminated fluid is essential to remove all of the contaminants in it.
Signs of a Brake System Problem
Bad brakes are a major threat to your ability to stop. The best way to take care of a brake system problem is by scheduling service at Tom Wood Honda in Anderson. If you are experiencing any of the following signs of give us a call or stop by our service center today:
Grinding, squealing, or screeching noise when braking
Vehicle pulls to one side when applying the brakes
Failed brake pad inspection
Burning smell
Brake system warning light is on 
  Schedule Service
 Service Hours 
  Monday
7:00 am - 6:00 pm
  Tuesday
7:00 am - 6:00 pm
  Wednesday
7:00 am - 6:00 pm
  Thursday
7:00 am - 6:00 pm
  Friday
7:00 am - 6:00 pm
  Saturday
7:30 am - 3:00 pm
  Sunday
Closed
Auto Service in Anderson, IN
Fixing any of these issues you may be experiencing is quick, easy, and price-effective at Tom Wood Honda of Anderson. Every brake system fluid exchange and flush service includes the restoration of brake pads and brake fluid to peak performance, all while assessing the entire brake system to ensure it is in tip-top shape. Tom Wood Honda is conveniently located on Scatterfield Road in Anderson within a short drive of most Muncie and Indianapolis, Indiana residents.
---
Tom Wood Honda Amenities:
Complimentary car wash with every visit
Certified & Factory-trained Technicians
Transportation and/or Rental Vehicle
Collision Center in Indianapolis
Early Bird Service
Supports American Cancer Society, Leukemia & Lymphoma Society, Indianapolis Zoo, St. Mary's Child Center, Best Buddies Indiana, and many more
---
Must present coupon when the order is written. Not valid with any other offer. Some restrictions may apply see Service Advisor for details. Tax and shop supplies not included. Some Models may not apply. Promotion may end at anytime with our notice. Does not include Tax and or Shop Supplies, see Service Advisors for details.
Dealer Wallet Service Marketing & Fixed Ops SEO by